Medical Student Advancement Program – MedSAP
MedSAP enables the best students of the Medical Faculty of the University of Belgrade to gain insight into the work of top medical institutions of the largest medical center in the world under the auspices of the Serbian-American Chamber of Commerce in Houston.
The successful scientific exchange of medical experts in development leads to the development of high-demand specialists.
The Faculty of Medicine in Belgrade selects students based on a rigorous score system that evaluates not only the success at faculty but also students' interest in sports, art and volunteer activities, as well as engagement in student associations. Fifth-year medical students may apply, and are selected based on their GPA and English proficiency, which is assessed during an in-person interview. The entire selection process is transparent and available for internal and external evaluation.
Honoring our MedSAP program, former Mayor Annise Parker proclaimed September 17 as "The Medical Student Advancement Program Day".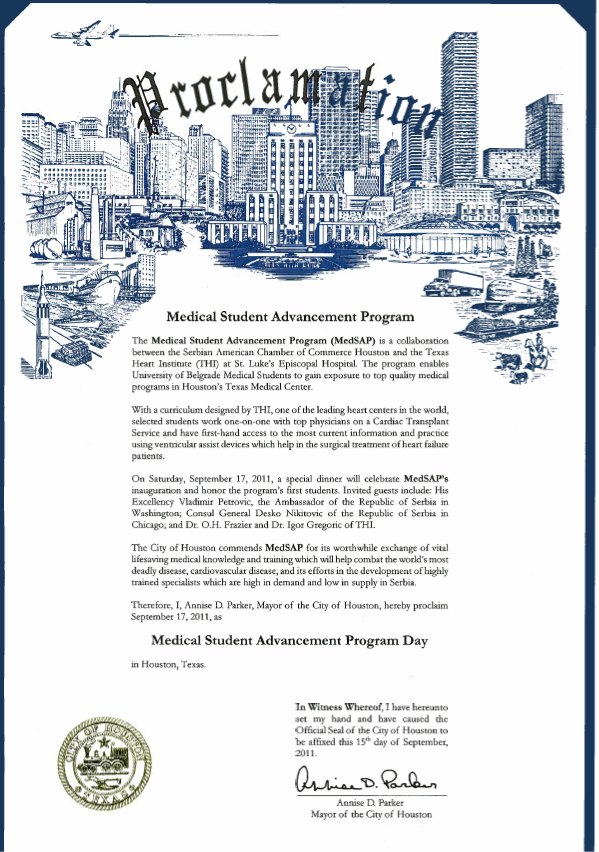 MedSap mission and curriculum

Mission: MedSAP will enable University of Belgrade Medical School students to gain exposure to top-quality medical programs in the institution of largest Medical Center in the World under the sponsorship umbrella of the Serbian American Chamber of Commerce.

 Vision of Success: Successful scientific exchange between medical programs and experts in development, resulting in development of specialists high in demand and low in supply. Increased number of resources available to medical institutions, where early interests are captured in pre-residency phase and skills focused to fill the resource gap.

 Student Selection: Belgrade Medical School will conduct student selection based on a scoring system developed by the International Federation of Medical Students' Associations – Serbia. Students ranking at top levels of excellence and in their last year of Bachelors Degree Studies (6-year curriculum) will qualify for the MedSEP. Selected students will have an interview in English with Dr. Sasa Borovic. The initial proposal is to select 2 students per year.

 Curriculum: A medical institution (Texas Heart Institute at St. Luke's Episcopal Hospital, Houston, Texas) will design and deliver the curriculum. Each student will have a designated mentor during the program. The main role of the mentor will be to ensure the quality of the education. The program will be based on rotational exposure to specific disciplines offered by the institution.
Students will work one-on-one with physicians on a cardiac transplant service and will have first-hand access to the most current information in the use of ventricular assist devices (VADs) in the surgical treatment of heart failure patients.
Students will have an option to rotate in the Cardiology Department where they will be exposed to all aspects of cardiovascular disease treatment.
Students will round with participating physicians twice a day and will have hands-on contact with cardiovascular surgical cases including heart transplant.
Students will attend Grand Rounds and participate in conferences and/or teaching seminars.

 By the end of this program the student will be able to:
​

Present patient information in a clear, concise, and organized manner

Create and present a diagnostic and therapeutic approach to a patient with cardiovascular disease

​

Participate in cardiovascular surgical cases with compliance
to basic surgical technique

 Visitor/Observer program at St. Luke's Episcopal Hospital: St. Luke's Episcopal Hospital is committed to educational programs that will provide the healthcare professional or future healthcare professional with the opportunity to learn while observing in the Hospital setting and while confirming to all rules and regulations.
Medical Staff member – A sponsoring physician will request the opportunity for a Visitor/Observer to come to St. Luke's Episcopal Hospital by sending his request in writing to the Graduate Medical Education Office.

 Financial support: SACCH will cover travel, board and logging, and pocket money expenses for the MedSAP participants.

 Duration of Curriculum: Two months (June – September timeframe)

 Values & Measures: The tutorial level is going to be monitored by the program director. Progress notes will be presented to the program director after each rotation. Curriculum coordinator will be responsible for regular attendance and adequate student effort. After program completion, the program director will present a written overview to SACCH and Belgrade Medical School. Medical students will receive the certificate of attendance following program completion.
MedSap activities in Serbia
MedSAP Alumni organization
The MedSap Alumni Society was founded and its very first Promotion Event held in Belgrade, on November 29th, 2013.  Visit the official MedSap Link: www.medsap.org for event detail and photographs.
From SACCH, the following representatives attended the event in person:
President Branko Strbac, VP Vesna Mirkovic, and Executive Director Olivera Jovanovic-Petrovic.  From Belgrade SACCH liaison support, attended Dr. Sasa Borovic and Dr. Zoran Trifunovic. All our students attended with the exception of Dejan Radakovic who is now living and working in Germany.  His Excellency, the United States Ambassador, Mr. Michael D. Kirby attended with his staff representing US Embassy support. Also attending were: Medical School dean, Prof. Dr. Nebojsa Lalic, Serbian State Secretary of Ministry for Education, Dr. Aleksandar Gajic and numerous professors and students.
The event was held at the University Medical School Ceremony Hall, and with all attending, there was a great appreciation of the effort and the program, enormous support to continue and strengthen the program and possibly increase the number of students. US Ambassador, His Excellency, Mr. Michael D. Kirby, indicated in his reflection; that in all the student advancement programs currently present in Serbia, MedSap is at the highest quality and of exceptional value. This sentiment was shared by the Dean, Dr. Nebojsa Lalic, and reflected in feedback from the alumni students. Numerous professors, from Belgrade and Novi Sad, were present and shared such enthusiasm during the social hour that followed the Promotion. SACCH and MedSap have absolutely incredible support in Belgrade, we have established a high-quality program that is advertised by alumni students themselves! I would like to thank all of you for working so hard to achieve this. We should be proud of ourselves.
During the ceremony, Dr. Rajko Radovancevic, Dr. Igor Gregoric, and Dr.
O.B.Frazier were recognized for being key enabling force to founding and continuing of MedSap.
The expectations of the MedSap Alumni Society are to establish a network of doctors with the goal of continued communication and professional work exchange. Further, different forums will be established to provide advice, guidance and other career reflections to new generations. Professional research papers and events will be shared through this network. A promotion event will be held each year in Belgrade, with all the Alumni students and preferably SACCH attendance in person.
Meeting with the US Embassy (Council for Public Affairs, Mr. Ryan Rowlands), was held on Monday, December the 2nd at the Us Embassy Office in Belgrade.
Meeting attended from SACCH: Branko Strbac, Vesna Mirkovic, Dr. Sasa Borovic and Dr. Zoran Trifunovic.
Vesna Mirkovic
VP SACCH
Dr. O.H. Frazier, M.D.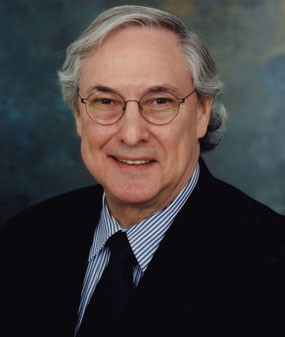 O. H. Frazier, M.D. is a distinguished surgeon, scientist, and academician who has applied his vast experience to the research and development of new cardiovascular surgical techniques, including the development of artificial heart and circulatory assist devices. His primary clinical interests are cardiopulmonary transplantation and heart assist devices, including total artificial hearts.  Dr. Frazier serves in a number of concurrent positions of leadership, including Chief, Cardiopulmonary Transplantation and Director, Surgical Research, Cullen Cardiovascular Research Laboratories at the Texas Heart Institute, Houston, Texas. He is also Chief, Transplant Service and on the Active Staff, Cardiovascular Surgery Service at St. Luke's Episcopal Hospital, Houston Texas. Dr. Frazier is also Chief, Cardiothoracic Surgery and on the Active Staff, Surgery Service at Hermann Hospital, Houston, Texas. Additionally, he holds medical staff appointments at a number of teaching hospitals in the Texas Medical Center.
A respected academician, Dr. Frazier is Director, Division of Thoracic Surgery (1986-present) and Professor of Surgery at the University of Texas Medical School, Houston. He is also Clinical Professor, Department of Surgery, Baylor College of Medicine (1994-present) and Clinical Associate Professor of Surgery, Division of Surgery, Department of Thoracic Surgery (1990-present) at the University of Texas M.D. Anderson Cancer Center.
O.H. Frazier, M.D. received the Doctor of Medicine degree from Baylor College of Medicine, Houston, Texas in 1967 after graduating with a B.A. degree from the University of Texas, Austin, Texas, in 1963. He received postgraduate training as Intern, Straight Surgery, at Baylor Affiliated Hospitals, Houston, Texas (1967-1968). Upon completion of a General Surgery Residency at Baylor Affiliated Hospitals (1970-1974), he completed a Thoracic and Cardiovascular Surgery Residency (1974-1976) at the Texas Heart Institute. From 1968 to 1970, Dr. Frazier served in the U.S. Army with the rank of Flight Surgeon (Captain) in the 48th Assault Helicopter Company, Vietnam. He was decorated with the Combat Flight Medal, Vietnamese Navy Medal, and the Vietnamese Distinguished Service Medal.
Dr. Frazier is certified by the American Board of Surgery and the American Board of Thoracic Surgery. He is a Fellow of the American College of Surgeons, of the American College of Cardiologists, and of the International Society of Cardio-Thoracic Surgeons. He is an active member of numerous professional societies and organizations.
O.H. Frazier, M.D. has received numerous awards and honors, and has been named to several medical and scientific advisory boards. He has authored or co-authored numerous publications, including books and scientific journal articles, and he serves on the editorial board of numerous medical and scientific journals dealing with cardiology, circulation, and heart and lung transplantation.
MedSap 2011 Students
It's symbolic! We are the first. And we came to the hometown of the world's biggest space agency, to be launched into the infinite universe of cutting-edge medical science.
MedSAP gave us an opportunity to experience the world's best center for the treatment of cardiovascular disease. It gave us opportunity to gain experience in procedures, techniques and devices that are now used in the USA. Here, they give new life to the patients who were incurable a couple of years ago. We got the chance to sit and learn medicine from the giants who have been making medical history for the past three decades. Knowledge we will gain, will be used in our future careers and generously shared with our colleagues. That way we get the chance to take part in development and improvement of Serbian health care system.
Also we got the opportunity to meet students from all over the world, share ideas with them, experience their culture and make contacts with future leaders and medical experts.
We met all the marvelous people from Serbia, who live in the USA, who made their careers here, and who represent the strongest bond between our homeland and leading economic, political and cultural force in the world. They made this program alive, and we thank them for that.
An investment in knowledge always pays the best interest.
Benjamin Franklin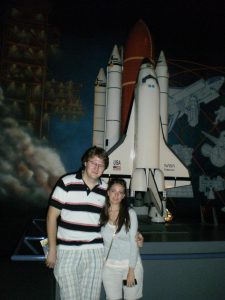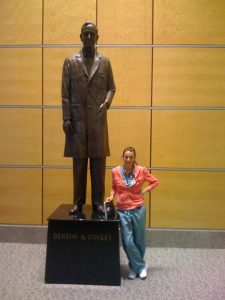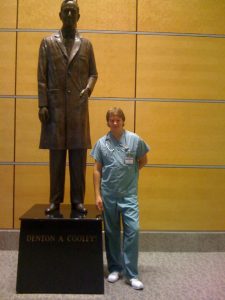 MedSAP 2012 Students
| | |
| --- | --- |
| Slavica Mutavdzin | Ivan Zaletel |
| Irena Ostric | Andrija Pavlovic |
On June 25, 2012, four young medical students from the University of Belgrade boarded a transatlantic flight destined for a distant and unfamiliar place for one single purpose – to help make this world a better place.
"Our goal in medicine is to enable a person to do what he or she loves to do," said Andrija Pavlovic, one of the four recipients of the Medical Student Advancement Program (MedSAP) grant.
This year, the Serbian-American Chamber of Commerce of Houston sponsored two students and the Texas Heart Institute sponsored two additional MedSAP scholars to come to the United States for a two-month internship at one of the world's most recognized medical hubs, the Texas Medical Center in Houston, TX.  Joining Pavlovic this summer are Ivan Zaletel, Slavica Mutavdzin, and Irena Ostric.
During their stay in Houston, the students are studying at the Texas Heart Institute at St. Luke's Episcopal Hospital, where they are under direct mentorship of the world-renowned surgeon Dr. O.H. Frazier.
Irena Ostric said, "We didn't know exactly what this program was about, but this is something that can change the way we see the treatment of heart disease in general."
According to Branko Strbac, president and chairman of the Serbian-American Chamber of Commerce in Houston (SACCH), the MedSAP scholarship originated in 2010  with Dr. Rajko Radovancevic, Ms. Vesna Mirkovic and Dr. Sasa Borovic.   They wanted to carry out a long-time wish of the late Dr. Branislav 'Brano' Radovancevic, to bring medical students from Serbia into the Texas Heart Institute. Brano Radovancevic was a well-known expert in end-stage heart failure treatment and research, who worked closely with Dr. O.H. Frazier.
"In addition to becoming better doctors, our aim is to aid them in becoming even better leaders by sharing their gained knowledge and leading by example," Strbac said.
Although the two-year-old program is currently funded by private donations and SACCH functions, there are several plans for growth in the coming years. According to Strbac, the Chamber is talking with various institutions in Houston in hopes of establishing funds for further research and mentoring programs.
"The program has definitely taken on a momentum and we can comfortably say it will continue," he said. "Both countries benefit whenever there is an exchange of people – especially students."
Despite the fact that this is the students' first time in the United States, they do not have much leisure time due to their heavy schedule at the hospital. The students have the opportunity to observe surgical procedures and clinical rounds, as well as attend daily morning meetings and conferences.
"[Dr. O.H.Frazier] takes his mentorship very seriously," Zaletel said. "He always takes the time to answer all of our doubts and questions."
On the rare occasion that the MedSAP students do get a break from the hospital, they like to explore the Houston arts scene and have been able to attend events hosted by other members of the SACCH and the Texas Heart Institute. Earlier in the summer, they joined Dr. O.H. Frazier for a performance of Shakespeare's "Hamlet" at Hermann Park.
"He could easily recite the entire play," said Pavlovic, adding that Dr.O.H. Frazier even pointed out the actors' missed cues in lines. "Serbia needs more doctors like him."
Although all four of the students say that they would like to see Serbia following the United States' footsteps in medicine, they would like to implement a cross system in their future careers. Pavlovic said he would like to include all the technological advancements but retain Serbia's habit of having small doctor-to-patient ratio and establishing good relationships with the patients.
"No matter what, the experience we are getting here – to interact  with the people that we do – is going to be extremely useful in our future," Ostric said. "I'm just happy to have the opportunity to be here."
Pavlovic agreed with her.
"Everything we have done so far has finally paid off," he said. "We are finally being recognized for all the hard work we have put in throughout medical school, and it has finally paid off investing ourselves all that time. This will probably be one of the best experiences of our lives."
By Dunja Zdero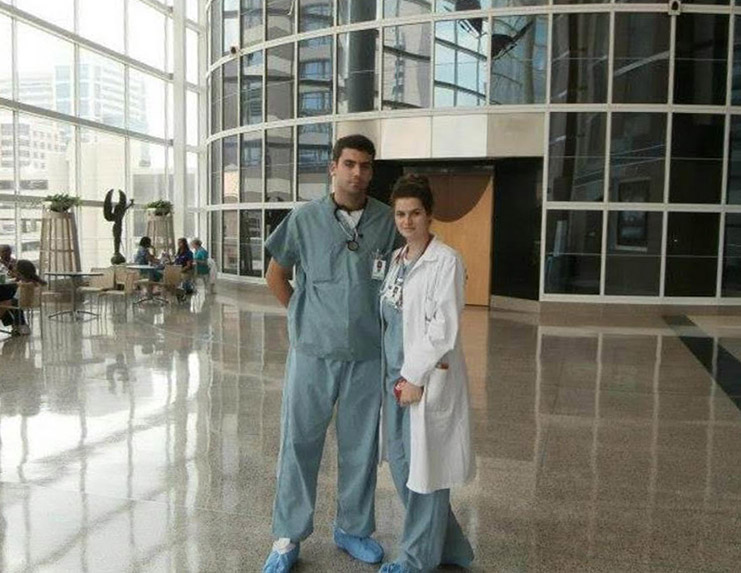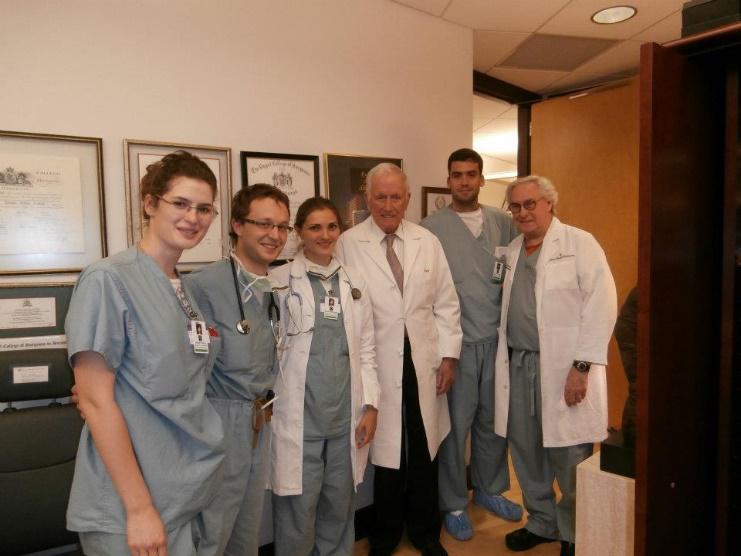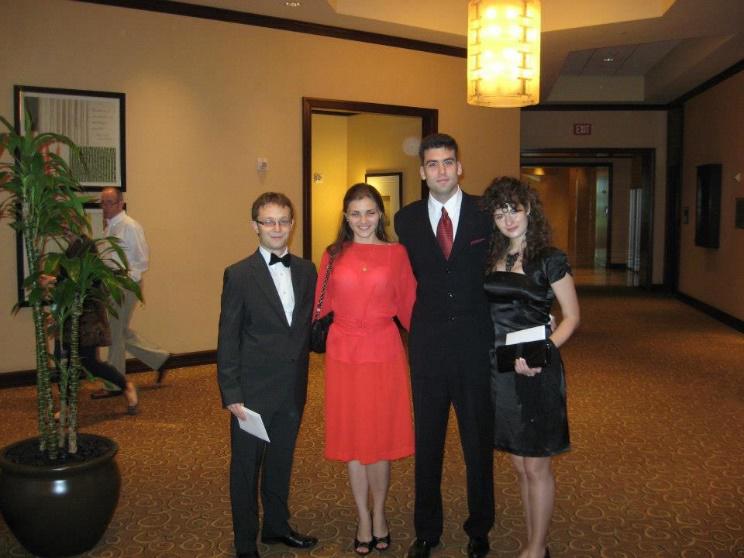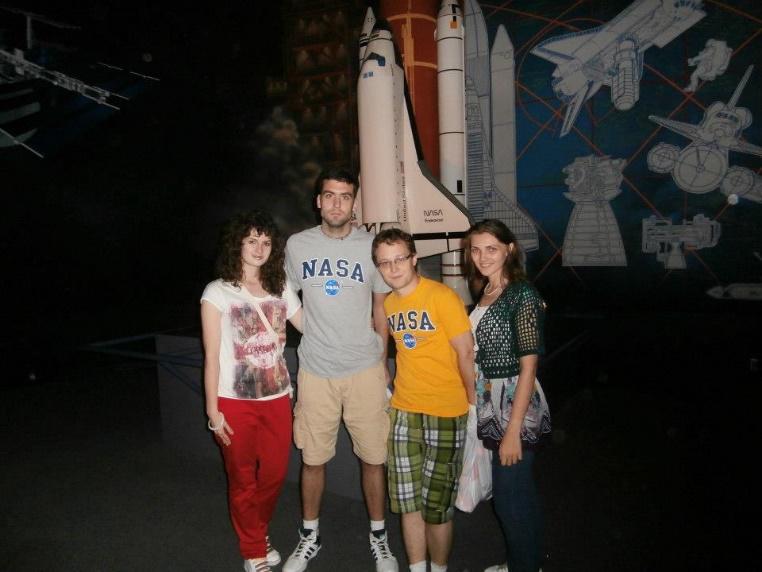 MedSAP 2013 Students
| | |
| --- | --- |
| Sasenka Vidicevic | Darko Radakovic |
| Milan Radovanovic | Milos Brankovic |
In 2013 MedSap program seems to be alive more than ever.   Just three years following Serbian-American Chamber of Commerce's (SACCH) debut of prosperous program enabling Serbian medical students to immerse into Texas Heart Institute (THI) for extensive summer training curriculum, SACCH was also able to emerge another extraordinary program – CSAP.
CSAP is a program that supports Serbian students who specialize in technological studies to broaden their knowledge by attending Rice University during summer semester.
This year, Rice University sponsored Tea Prokic as the only student with a possibility of opening doors to more students in the following year.  Alongside Tea Prokic are Sasenka Vidicevic, Darko Radakovic, Milos Brankovic, and Milan Radovanovic; four talented students representing MedSAP in 2013, two of whom are sponsored by THI. SACCH's president, Branko Strbac, could not be happier to see the level of success and support that both programs have achieved.
As expected, both programs are highly beneficial to students and their further development in medical and technological fields of study.  During the course of the summer both programs allow students to get hands-on learning and apply the acquired knowledge. Tea has been immersed in multiple projects at Rice University, while MedSAP  students had the opportunity to observe and assist doctors in heart transplant surgeries.
Students have embraced this opportunity and were eager to share what it means to them. "We have the honor of being surrounded by many widely recognized medical experts that are writing history books and thanks to whom THI has been known as one if the greatest centers for cardiovascular diseases in the past fifty years" said Radovanovic.
"Our close mentor, Dr. Frazier is making this internship very unique and enjoyable for students like us" shared Radakovic. "I am confident that our stay in THI will play a key role in our further advancement in medical field" added Brankovic.  Apart from agreeing that this opportunity will gain them further skills and knowledge, students were also quick to notice certains differences between medicine in Serbia and United States.
"What must be the biggest difference between medicine in Serbia and United States is infrastructure and financial resources. Enthusiasm, will to discover, learn and prosper is more of a similarity between the two countries, but it is a fact that United States has better tools to help reach those goals" expressed Vidicevic.
Curriculum:
Students will work one-on-one with physicians on a cardiac transplant service and will have first-hand access to the most current information in the use of ventricular assist devices (VADs) in the surgical treatment of heart failure patients. Students will have an option to rotate in the Cardiology Department where they will be exposed to all aspects of cardiovascular disease treatment. Students will round with participating physicians twice a day and will have hands-on contact with cardiovascular surgical cases including heart transplant. Students will attend grand rounds and participate in conferences and/or teaching seminars.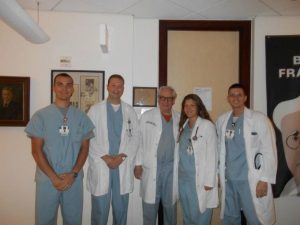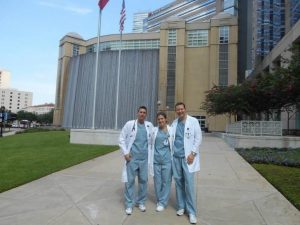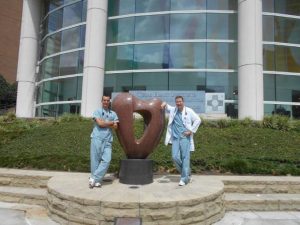 MedSAP 2014 Students

Djordje Milicevic was born in 1990 in Belgrade, Serbia. After graduating from the Sixth Belgrade High School, he entered studies at Belgrade University School of Medicine, where he is currently enrolled in the fifth year as the only student in his generation with a GPA of 10.00 out of 10.00. He loves science and working with patients, equally. He is very fond of arts, especially literature and the classical guitar.

Stefan Barisic showed great interest in Medicine from the earliest days of his life while his mother was studying for her surgery exam and he was distracting her with comments (i.e. cries) every once in a while. The Sixth Belgrade High School provided him with the working habits and endurance. When it came to choosing a life vocation, he was in love with fifteen different sciences at the same time. Eventually, he chose his oldest passion, medicine, and he has never regretted it.

Maja Draskovic was born in Uzice, Serbia and for as long as she can remember she had known what she wanted to do in life, science. Science has always been a passion of Maja's and medicine has interested her in particular. She started her studies at School of Medicine at University in Belgrade in 2009. Throughout the school year, Maja has always strived for academic excellence, always wishing to make the most of her education. So far, Maja's academic achievements include many diplomas, acknowledgements and scholarships.

Damjan Mirkov is 24 years old and is a student at School of Medicine, University of Belgrade and who is currently between his 5th and 6th year. In Houston, during the MedSAP project Damjan is improving his knowledge in cardiology and CV surgery. Damjan speaks Serbian as his native language, and French and English as foreign languages. In his free time, he loves to dance. For the last 15 years, Damjan has danced for KUD New Belgrade which is a Serbian national dance group. With them, Damjan traveled throughout Europe and visited numerous countries.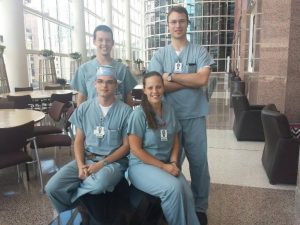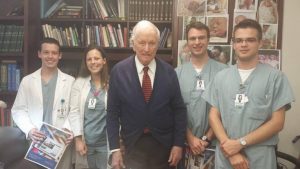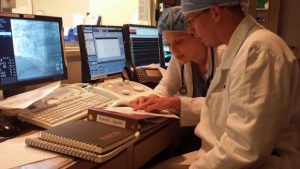 MedSAP 2015 Students

Jovana Stevic
* Medical School University of Belgrade, 5th years of study, GPA 9.50 /10 (October 2010-present)
*Secondary Medical School , nurse – technician, Pozarevac . The holder of Vuk's diplomas and awards for the best student generation of 2010 (2006-2010)
* Elementary School "Jovan Cvijic" Kostolac . The holder of Vuk's diplomas and awards for the best student generation of 2006 (1999-2006)
Additional education
* Petnica Science Center, disciplines Molecular Biomedicine and Anthropology , specialized seminar Exploratorium, (2007-2010)
* Regional Centre for Talented Youth Pozarevac , disciplines Biology and Literature (2006-2010)   Languages:  Serbian (native) – English (upper-intermediate) – German (intermediate) – Spanish (beginner)

Natasa Stankovic
2014 Elsevier's Author Workshop and Library Information Event, Belgrade
2014 Serbian Diaspora Medical Conference, June 2014, Belgrade, Serbia 2014 Continuing Medical Education Program accredited by Health Council of the The Republic of Serbia "Terminal Heart Failure Treatment: New drugs and interventional procedures, mechanical circulatory support and heart transplant", KCS, Belgrade, Serbia
2014 Online course " Clinical Terminology for International and U.S. Students" , University of Pittsburgh 2013 IX/XV Congress of Serbian Neurologists with International Participation, Belgrade 2012-2013 Online course "Medical Statistics and Informatics" in the e-learning project "Reticulum" School of medicine, University of Belgrade
2011-2012 Online course "Immunology" in the e-learning project "Reticulum" School of medicine, University of Belgrade
2007-2009 Petnica Science Center- course Molecular Biomedicine
Serbian – native speaker English – fluent Spanish- A1 level
Tokom prvih mesec dana našeg boravka na kardiologiji, u centru za napredno lečenje srčane slabosti, imale smo izuzetnu čast da sarađujemo sa dr B. Kar-om, dr S. Nathan-om, dr. B. Akkanti i mnogim drugima koji svi zajedno kao tim ulažu mnogo kako bi ljudima sa najtežim srčanim problemima omogućili najbolje lečenje i ozdravljenje. Prisustvovale smo i timskim sastancima kada su se donosile životne odluke o transplantaciji srca, bile dirnute motivacionim govorima doktora, čule otkucaje veštačkog srca, oslušnule rad mehaničkih srčanih pumpi, imale priliku da izbliza pogledamo helikoptere iz Life Flight sistema angažovanih za spasavanje najhitinijih bolesnika.
Naišle smo na dobar prijem svih zaposlenih na odeljenju, zajedno smo proslavljali odlazak transplantiranog bolesnika svojoj kući, zajedno obeležavali rođendane zaposlenih. Veliku podršku u radu imamo i od dr Rajka Radovančevića u Memorial Hermann-u koji sa punom pažnjom prati naš rad.
Imamo i odličnu priliku da učimo i družimo se sa kolegama iz Slovenije koji u okviru svojih programa i podrške dr I. Gregorića, načelnika hirurgije i transplantacionog tima, dolaze svakog meseca na rotacije svoje kliničke prakse. To je bila i šansa da razmenimo iskustva i znanja i zajedno prisustvujemo brojnim predavanjima i radionicama, poput časa hirurškog šivenja, ultrazvuka srca, ishrane srčanih bolesnika, finansijskog menadžmenta, obilasku centra za hiperbaričnu medicinu, dežurtsvu u urgentnom centru ili kako izgleda rad jednog perfuzioniste u timu
Ovo je sjajna šansa za mlade ljude. Sva nova iskustva koje se ovde steknu mogu biti motivacija da takav sistem i pristup bolesniku obezbedimo u budućnosti i u našoj zemlji. Pred nama je još čitav mesec kardiologije i kardiohirurgije, nastavak putovanja u najvećem gradu u Teksasu, gradu medicine i naftne industrije.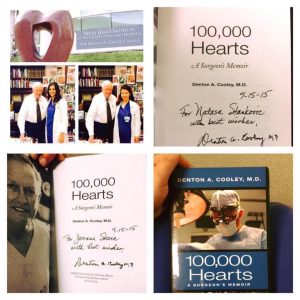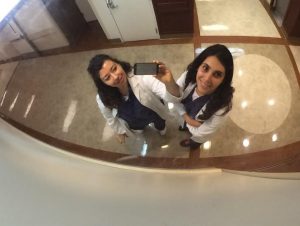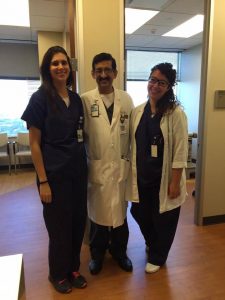 MedSAP 2016 Students

Marko Barovic
Education
2007 – 2011 Grammar school "Stojan Cerović" Nikšić
2011 – Present: Integrated medical studies, University of Belgrade School of Medicine Awards
2014, First prize at session on biochemistry on 1st Global students' conference of biomedical sciences in Belgrade Diploma
2015, First prize at session on endocrinology and nephrology on 2nd Global students' conference of biomedical sciences in Belgrade
Exchanges
2015, one-month exchange period through IFMSA-Serbia, Intensive Care Unit,
Infectious diseases clinic Östra Infektion, Sahlgrenska University Hospital
Memberships
2012 – 2015, member of the Students' Parliament of the University of Belgrade School of Medicine,
2012 – 2015, member of the Educational board of the University Of Belgrade School Of Medicine,
2014 – 2015, member of the Council of the University Of Belgrade School Of Medicine,
2013 – Present, member of the Students' Professional and Scientific Research Center,
2014 – Present, active member of committees for professional and research exchange of IFMSA-Serbia,
2004 – Present, member of the Association of Scouts of Montenegro, International Commissioner since 2011

Stevan Stojanovic
Education:
– University of Belgrade, School of Medicine, 5th year student, total mark 10.00/10.00
– Ninth gymnasium of Belgrade "Mihailo Petrović-Alas'', total mark 5.00/5.00
– Elementary school "Borislav Pekić'', total mark 5.00/5.00
Experience:
– Student of the 5th year of education at the School of Medicine, University of Belgrade
– Student-teacher at the Institute of Anatomy, two semesters, academic year 2012/2013.
– Student-teacher at the Institute of Physiology, two semesters, academic year 2013/2014.
– Student-teacher at the Institute of Pathology, two semesters, academic year 2014/2015.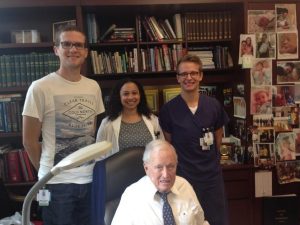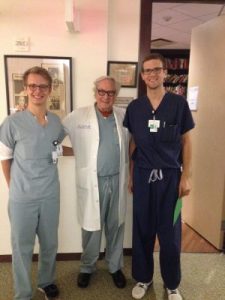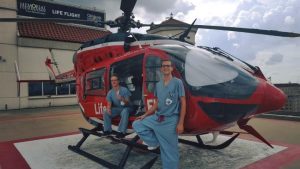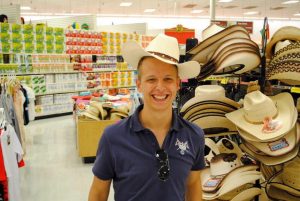 MedSAP 2017 Students

Ljubica Bakic finished high school in Srbac (Bosnia and Herzegovina). She is currently enrolled in the Faculty of Medicine at the University of Belgrade. Ljubica is a student demonstrator in the subjects histology and embryology, first aid and microbiology.
She is a (co)author of 15 scientific papers presented at national and international congresses, as well as 2 papers published in medical journals. She is a member of a few student organizations where she mostly teaches first aid and surgical suturing. She was the State Debate Champion of Bosnia and Herzegovina and she participated in the World Debate Championship. Her hobby is singing.


Anida Ademovic was born in Belgrade, where she finished Third Belgrade Gymnasium. Currently she is studying Medicine on the Faculty of Medicine, University of Belgrade. She has been four times in a row on a Dean's list, as one of the best students in the generation.
She wrote 17 scientific papers that were presented at international and national congresses. Some of them were awarded as the best presented paper in the session (12th YES Meeting, Porto; 3rd Global Student Conference Belgrade; 57th Biomedical Student Congress, Srebrno Jezero). She speaks fluent English, German and Italian. She was a member of the swimming club "Partizan" and played chess (second category), where she achieved noticeable results. She is also engaged in amateur photography.
Participating students will gain exposure to top quality medical programs providing opportunity to both students and medical institutions to tap into each other's resources and potential for future synergy.
Medical institutions will have the opportunity to tap into the resources in the pre-residency phase, through offering curriculum specific to the specialty needs. By securing high quality mentoring program, medical institutions will develop ability to enhance attractiveness of residency in high demand/low supply areas of specialization.
Serbian American Chamber of Commerce will enrich its network through sponsoring the program.

The Serbian-American Chamber of Commerce of Houston is a private, non-profit membership organization, founded in 2007 to develop business growth and economic relations between Serbia and the USA